Since the Asia phase of our trip was considerably more expensive than either of the other two phases, we knew we would need to find opportunities to save money. We loved WWOOFing, but we wanted a more relaxing experience to finish off the year. Rory and Gen, the friends we made in Korea, told us about TrustedHousesitters which they had used in many countries during their travels. When we saw them in Tokyo, they were spending a week in an amazing apartment looking after some cats. They raved about their experiences so much, we decided to give it a shot. We signed up for an annual sitter plan which would allow us to do house sits anywhere in the world for a year. Rory and Gen got us a referral discount, vouched for us on the site, and supported us through our first few rejections. We were thrilled when Helen and Mike accepted us as house sitters for their brand new four-bedroom house and eleven-year old Golden Labrador, Billy!
Getting from Brisbane to Armidale was pretty easy. Crisps Coaches offers a single bus route from Brisbane to Armidale each day departing at 10:45am. The whole journey takes about eight and a half hours with a change of buses in Warwick a few hours in. National Highway 15 was closed between Ipswich and Warwick because of bush fires, so we had to take the long way around. It was clear fires had burned recently on a few roads we did take because the trees were charred and the road was being repaved. We arrived at the Visitor Center in Armidale where Mike and Helen were waiting for us around 7pm.
They drove us back to their house and introduced us to Billy. They showed us to our room and gave us a tour of the house. The house was built twelve months ago and has an amazing perch on a small hill with 180-degree views down towards the city of Armidale and the surrounding area. Unfortunately, the area is so dry these days that everything is brown. Mike and Helen told us this area was lush and green as recently as three years ago.
The next morning, Mike and Helen gave us instructions for feeding Billy and watering the plants. Helen took us for a drive into the city of Armidale to point out a few things like the train station, the grocery store, and various places to park. Then they packed up their things and left on vacation leaving us to hang out in their house for ten days.
Taking care of Billy and the plants was easy and required no more than thirty minutes a day. We fed Billy twice a day: chicken neck and scoop of dry dog food in the morning, and two scoops of dry dog food and a glucosamine pill in the evening. We pet Billy and brushed him a lot. He really liked that, and even though it was hard for him to move, he often laid down and rolled over so we could rub his belly.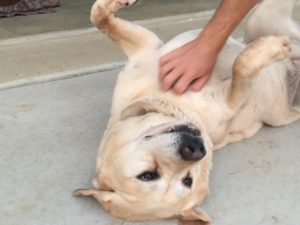 We took him for a walk around the five-acre property each morning unless it was too smoky to be outside. Helen had told us Billy could walk himself if he wanted, so the walk was not strictly necessary. We enjoyed the walk though because it was an opportunity to see so many kangaroos! There was a cute family of three kangaroos on the other side of the private road that ran through the property and we loved watching them.
Mike and Helen had acquired 50 native plants they intended to put in on the hill below their house, but Armidale is under level 5 water restrictions which means they cannot use hoses or drip irrigation to water them. They had purchased a tank of water they could use to water the plants in their pots every other day. They have a small patch of grass behind their house which they water using recycled gray water. When the water reaches a certain level in the septic tank a pump turns on and distributes water to a sprinkler system on the lawn. The sprinklers came on twice while we were there and the small bit of grass mostly stayed green.
Helen and Mike had warned us that it tended to get smoky in the area from the bush fires if the wind blew in a particular direction, but it usually passed by the next day. The first few days we were there were pretty clear, but on the fifth day we could see two smoke clouds on the horizon in two different directions from specific fire spots. The sky was still blue at that point, but three hours later the smoke had spread over the entire area. From that day on there were three bush fires burning roughly 35 miles away from Armidale in three different directions, and it was smoky no matter which direction the wind blew. We felt sorry for the animals who had very little grass to eat, no water, and only smoky air to breathe. We let Billy come inside the house during the worst of it.
When we were not feeding Billy or watering plants, we spent most of our time hanging out in the house. It was so nice to have such a nice, big house to spread out in after months of living out of backpacks. The kitchen was great, so we did a lot of cooking. We used our newly-discovered chicken butchering skills to cut a whole chicken into its component pieces and turned it into two dishes and lots of chicken broth. We found kangaroo (!) in the grocery store and made kangaroo burgers and soup with kangaroo sausage. Eric made bread twice and then creme brulee. Jess made brownies using the left over ingredients. She even created her own brown sugar out of treacle and white sugar when all of Helen's brown sugar turned out to be moldy. That worked surprisingly well!
We had a little too much time on our hands, so we perfected the art of making coffee in an 18:1 ratio using a kitchen scale. We got so good, we knew how much water we needed to boil to make a single cup of coffee with the perfect ratio. Unfortunately, our very carefully calculated coffee had a little too much silt in the bottom. We had bought the coffee grounds from a local coffee roaster and Jess had asked for it to be ground for a French press. Unfortunately, in Australia, a French press is called a plunger and "French" is interpreted as a finer espresso ground. On the bag where various ground size options were listed, the server had handwritten "French".
Eric took advantage of the nice TV room to watch a few movies while he was working. Jess used it only for our daily yoga sessions which we continued religiously. Jess did a lot of blogging, promising one blog post per day until Christmas. This caught us up quickly but meant she spent most of her time writing. We did a 1000-piece puzzle, caught up on some TV and went into town twice to do some grocery shopping and once to buy some Christmas presents. Besides those excursions we stayed in the house.
When we went out in the evenings to feed Billy, there was usually a lot of wildlife to watch. Over the course of the week, more and more kangaroos gathered in the back yard and they eventually found the "salad bowl" as we called it. The salad bowl was the only patch of green for miles. It had been what Mike and Helen called the dam and was filled with water until recently when it dried up. Lots of weeds had grown in the damp soil and the kangaroos were happy to have found it. One evening there were eleven kangaroos in the salad bowl, and one of them had a joey in her pouch! When she bent over to eat, the joey could eat grass without leaving the pouch. So cute!
During our stay, Jess had a brief thought that we should look into train tickets to Sydney since we were planning to travel on the Sunday before Christmas and there was only one train a day. However, Helen had mentioned something about needing to go to the train station to get tickets, so we had put it off until our next trip into town. A few days later, Jess thought she better just check what the options were online only to discover the train was already sold out on Sunday and Monday! We needed to be in Sydney on Wednesday to catch our flight to New York, but neither leaving on Saturday before Helen and Mike got back nor staying in Armidale until Tuesday seemed like good options. Luckily, Armidale has an airport and we found a flight to Sydney for only slightly more than the cost of the train. Flying cut our travel time from eight hours to two which gave us some extra time to hang out with Mike and Helen and their daughter's family when they returned.
The time we spent in Armidale was unlike any other part of our trip. It was great to have so much down time without feeling like we needed to go out and see something. Any desire we might have had to go hiking or exploring in the nearby parks was quickly dampened by the heat and the smoky air. The unique wildlife meant we did not feel like we were missing out on seeing something cool while we were slowly reverting back to normal life.