The Hida train ride from Nagoya to Takayama was beautiful. The train boasts extra large windows so you can appreciate the view, which we did! The train wound along the river through the mountains where the trees were starting to change to yellow and orange. Also, trains in Japan have a cool feature where all of the seat backs can be moved from one side to the other of the seat so no one has to travel backwards. We think more trains should work this way.
When we arrived in Takayama, we were hungry, so we stopped at a ramen restaurant on the corner. Takayama has its own regional variation on the traditional Japanese ramen with thin curly noodles and a light soy sauce and bone broth. It was delicious.
After lunch we walked to our Airbnb on the edge of the main shopping street. Given the cost of our accommodation in Nagoya, we were pleased to have found something in Takayama that was considerably less expensive. Japan is pricey, and if you start your day already out $72, it does not take long before $120 is long gone, especially given the cost of the train travel. Of course, cheaper accommodation always comes with some unusual features, and the Takayama place was probably the strangest place we have slept all year. The Airbnb was a room in a guesthouse that offered a tiny shared kitchen and a shared bathroom. The room itself would be better described as a closet because it was small and did not have any windows, although we could tell it was not a closet because it had a closet in it.
As is common in traditional Japanese guesthouses, the beds were thin futon mattresses that you put on the floor. The guesthouse had strict instructions about using the linens. They provided a helpful set of rules, insisting that guests use a sheet, but we did not see any sheets. Fortunately, there were diagrams labeling the duvet cover, pillow cases, and sheet, which was really a padded mattress cover. We made very sure to set up the beds correctly. However, there were no instructions about where to set up the beds, and the room was so narrow, the mattresses did not quite fit. We started to wonder if we were actually supposed to set the beds up on the shelves in the closet!
It is cold in Japan in October, particularly in the mountains, so we were happy to have the space heater that came with our closet room. It also came with explicit instructions about not leaving it on when we went out or while we were asleep lest we start a fire or give ourselves carbon monoxide poisoning in our windowless room. The fire risk did seem mildly problematic, especially when we discovered the fire escape was out the window of a neighboring guest room. Luckily no one was staying in that room while we were there and there was no fire, so we did not have to figure out how we would get into someone else's room to get out.
While this was a pretty strange place to stay, it got the job done. We deemed the kitchen too small for practical cooking and opted to eat all of our meals out which was expensive but allowed us to try lots of yummy food. It also gave us a reprieve from shopping in Japanese grocery stores which had been its own sort of hilarious adventure. Somehow we had not found grocery stores in Korea so confusing. Yes, we had a few grocery store hiccups there too, but in Japan nothing seemed familiar. There were virtually no Western foods, and the packaging often did not help identify what something was if you could not read Japanese. Eric thought he found peanut butter only to discover it was a large container of miso paste. Even finding things like seaweed or rice proved challenging. Despite Jess's diligent learning of Japanese every day for the past sixty days, she had only learned one of the three writing systems the Japanese use. And when we say they use three, we mean they mix all three together, so knowing only one does not help unless the phrase you are looking at happens to only use that one. Google Translate seems to find this just as confusing. In the milk section (milk was helpfully packaged in a carton with a picture of a cow on it), we could not figure out which milk was full fat. All of the milks said "100%" on them and Google Translate very unhelpfully informed us it was "100% collective of the collective." Eventually we found a carton that said 3.5% in the nutrition information and bought that brand from then on. We think we remarked in one of our Korean posts that shopping in the grocery store is its own cultural experience, and that was even more true in Japan. In Takayama, we were happy to set that particular experience aside in favor of more adventurous restaurant meals.
One evening we went out for a fancy meal to try Hida beef, which this region is known for. Hida beef is renowned for its tenderness which comes from the marbled texture. It did not disappoint! After trying to go to two highly recommended Japanese restaurants to try Hida beef, one of which was closed because it was Wednesday and the other of which was full for the night, we ended up at Butchers. Butchers turned out to be a very touristy restaurant – not a single diner was Asian, let alone Japanese. Nevertheless, the food was delicious. We opted for the combo platter which came with steak, salad, and a selection of five appetizers. The appetizers were pretty varied and tasty. The steak was incredible! Hida beef is expensive – $36 for a 3oz steak – but it is absolutely delicious. It is so tender it melts in your mouth and it is full of flavor. We were very happy to have tried Hida beef, and we very much enjoyed our evening. We met a mother and daughter from Peru at the table next to us who were full of hilarious stories from their adventures in Japan and elsewhere and enjoyed chatting with them.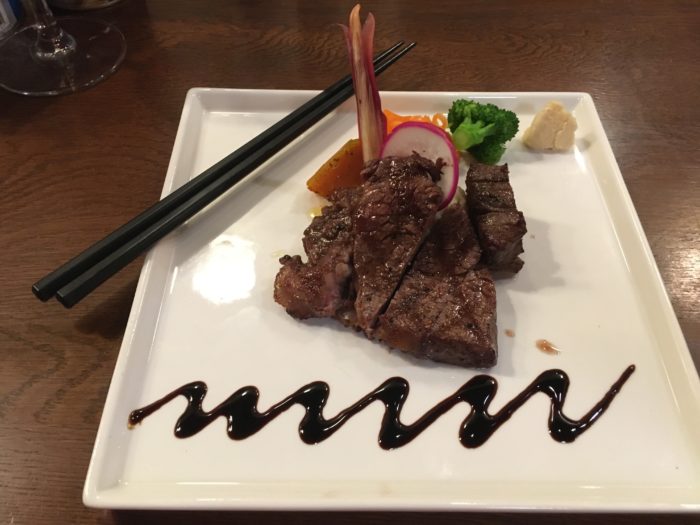 Another evening, we found a tiny game restaurant with eight seats and a single chef. Not only did he man the whole restaurant himself, he himself had hunted the animals we were eating. There were various preparations of deer, boar, and bear which were all delicious! We tried boar, bear, and deer skewers so we could taste the meat individually. It was amazing how different the three of them were in preparation, texture, and taste. Bear was barely cooked, no pun intended, but really flavorful! We also tried a bear curry and deer in wine reduction, both of which we really liked. The dishes were pretty expensive and quite small, so we needed to find some additional food. We headed back to the guesthouse where Don runs a restaurant underneath. He offers a 10% discount for guests staying upstairs, but he requires evening guests buy a drink, so our hopes for a cheaper supplementary meal were dashed. Nevertheless, we continued our evening of adventurous meat eating with horse sashimi.
Food establishments run and served by a single person were really common in Takayama. There were plenty of restaurants with full staffs, but it was not unusual to see one person doing all of the cooking, serving, payment processing etc. We stopped into one coffee shop in which all the tables were full and asked for two cappuccinos to go. The woman running the place said we would have to wait for a while because she was backed up. Jess stood there for a few minutes before realizing this was ridiculous. Eric was standing outside with our backpacks while she waited inside just so we could have a coffee to go. We found a different coffee shop with an open table and plenty of staff to serve the customers.
Our first full day in Takayama was a rainy one, but we ventured out anyway to see the nearby Hida Folk Village. There are roughly 30 traditional houses in this open-air museum that were originally built between 1600 and 1867 in various locations across the Hida region. In 1971, the houses were transplanted here to create the Folk Village.
The Hida Village is probably beautiful in most seasons, but with the fall leaves, we found it to be particularly pretty. Each of the houses has a different style and you can go into each of them (take your shoes off, of course!) and wander around. In the mornings, indoor fires are lit in the houses because the smoke preserves them.
After a few hours of wandering around, Jess's feet were wet through her hiking boots, and she was tired of taking them on and off again, so we headed back home. We quickly discovered the downside of a closet room when we hung all our wet clothes and the room started to smell a bit like wet dog.
That evening we ventured out to find a sento, a traditional Japanese hot bath. It was raining and we were cold, so a warm bath seemed just the thing. For Y420 ($3.88) per person, we could soak in three hot baths and sit in the sauna for as long as we wanted. We agreed we would spend an hour and a half on our respective sides and meet up again afterwards. On the women's side there was a warm pool, a hot mugwort bath, and a cooler lavender bath, and Jess cycled through each of them and the sauna over and over. Unfortunately, the sento did not have a cold pool, and an hour and a half of hot tubs and saunas is a long time without any way to cool down again, so Jess resorted to filling buckets of cold water from the shower and dumping them over her head in between each of the baths. Eric had a similar experience.
On our second full day in Takayama, the sun was finally shining, so we took a day trip to Hida Furukawa which Eric's friend, Ben, had recommended. Ben had warned us the trains did not run that frequently, but if we timed it right we could get there in 15 minutes. Of course, we did not pay that much attention to the schedule and had to wait an hour for the train when we got to the station. We then almost missed that train because we had purchased a ticket for the fare noted on the map above, but we had not realized this specific train also required a limited express ticket. We were about to pass through the gate when the ticket collector told us we needed to go to the counter to get the second ticket. We are not sure how we could have known we needed this second ticket. On the way home we bought a ticket from a station employee just to be sure and no second ticket was required.
Hida Furukawa is a beautiful town with quaint traditional architecture. There is a koi canal running through town with thousands of koi you can feed. Eric was a bit distracted by some disappointing news he had received about the job he had interviewed for, so he was in a funny mood. We wandered around the town looking for things to do and found a glass museum. It cost Y300 ($2.75) per person to enter the one-room museum filled with display cases of beautiful glass pieces. There was one section dedicated to uranium glass which glows an eerie green color under a black light.
The entrance fee to the museum included a cup of tea which we were served on a small coffee table in the middle of the room. There was a coffee table book about uranium glass which we flipped through to find answers to specific questions like, "how radioactive is uranium glass?" The book suggested that even though uranium glass has fallen out of favor, it is not really dangerous; uranium glass has about as much radioactivity as a human being.
We tried traditional soba noodles made from the buckwheat that grows particularly well in this region. Soba noodles can be eaten either hot or cold and are often served with small dishes of green onions, garlic, and wasabi you can add to the broth you pour over them.
We also visited the Hida Furukawa Festival Exhibition Hall which is dedicated to the Furukawa Festival that takes place on April 19th and 20th. The Exhibition Hall shows a video of the festivities and houses three of the huge Yatai floats used in the festival. Jess beat one of the large parade drums outside the museum.
We had hoped to visit the Hida Crafts Museum which is a hands-on museum demonstrating traditional Japanese joinery techniques including those that can withstand an earthquake. Unfortunately, it had closed an hour early for some reason.
We enjoyed our time in Takayama and Hida Furukawa but three days was plenty. We might have been there at an unusual time, but it seemed surprisingly empty, and we kept running into places that should have been open but were closed. Eating out all the time was also expensive. In three days we spent an average of $184 per day. Our average which had been hovering around $121 when we left Korea was now at an unfortunate $129. We were happy to catch the bus to Matsumoto to start making our way to our next WWOOFing opportunity.
The bus ride to Matsumoto was gorgeous. The hills were covered in colorful trees. There were pretty lakes and rivers. We were taking pictures out the window the whole way. Roughly an hour into the journey, we stopped in Hirayu, a hot spring town. We walked all over town trying to find an onsen, a Japanese hot spring, but there was no English anywhere, and nothing looked like what we were looking for. We found a few map signs that indicated the hot springs and our location, and they helped us get progressively closer to something that was labeled on the map. It still did not look like much from the street, but we walked back into the woods behind a building and found two small changing rooms that each had a hot spring pool behind them. This onsen was free, so we enjoyed thirty minutes soaking in the hot water of our respective pools and then continued on our way to Matsumoto.